This week we have also found five tweaks that you should check out on you jailbroken device. Here you can find last weeks issue.

TitleMore – Big titles systemwide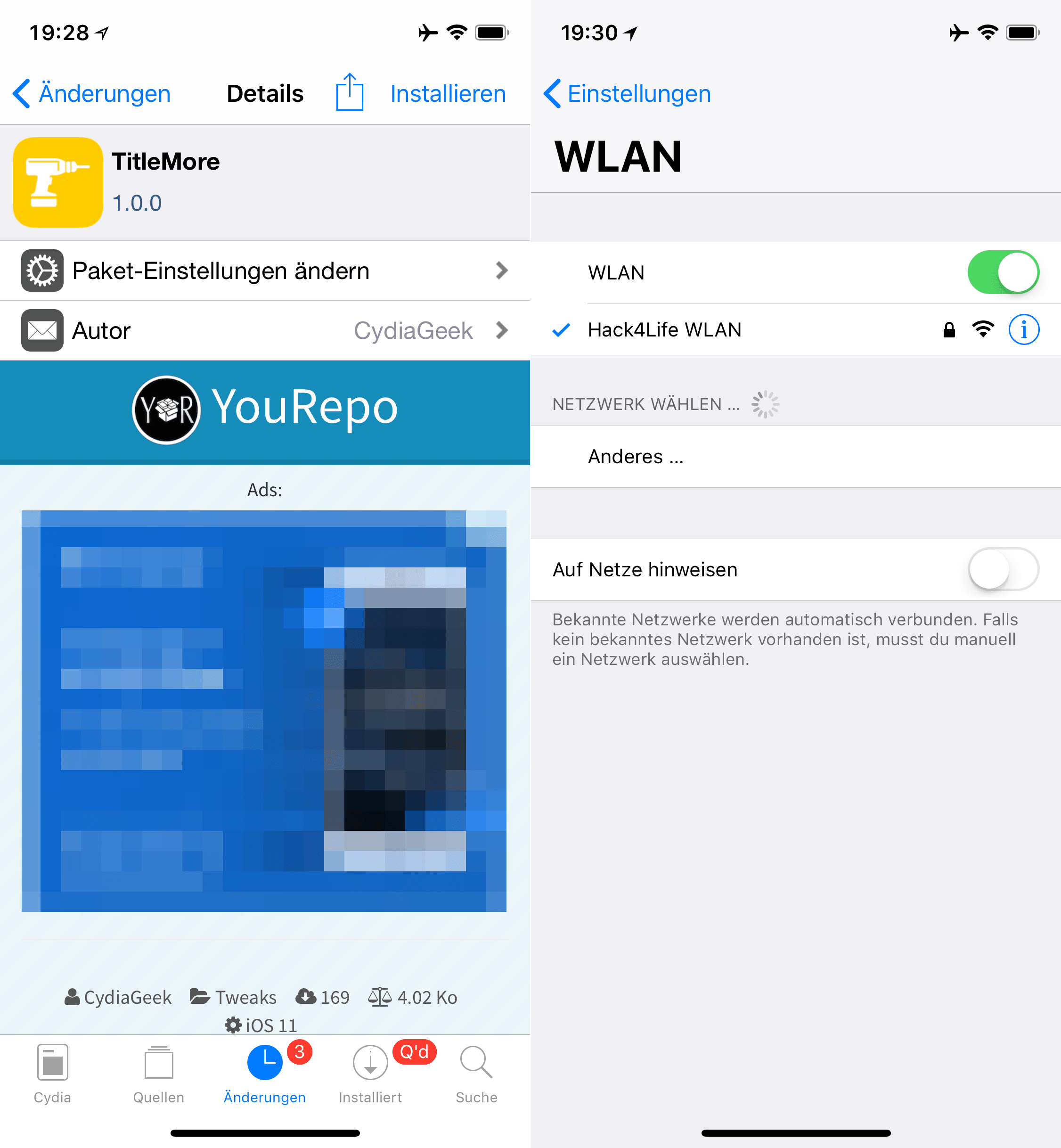 The text Settings is bigger when you open the settings app than when you enter a specific setting like WiFi. This is really confusing because the UX is not as clean as you normally would expect from a company like Apple. With the free tweak TitleMore you can change this behaviour of iOS. After the installation every title looks as big as the settings title. This may sound a little bit strange but is really convenient once you get used to it.
Repo: https://cydiageek.yourepo.com/ (Link opens Cydia on your iPhone)
Price: free
YTSkip – Get rid of YouTube Ads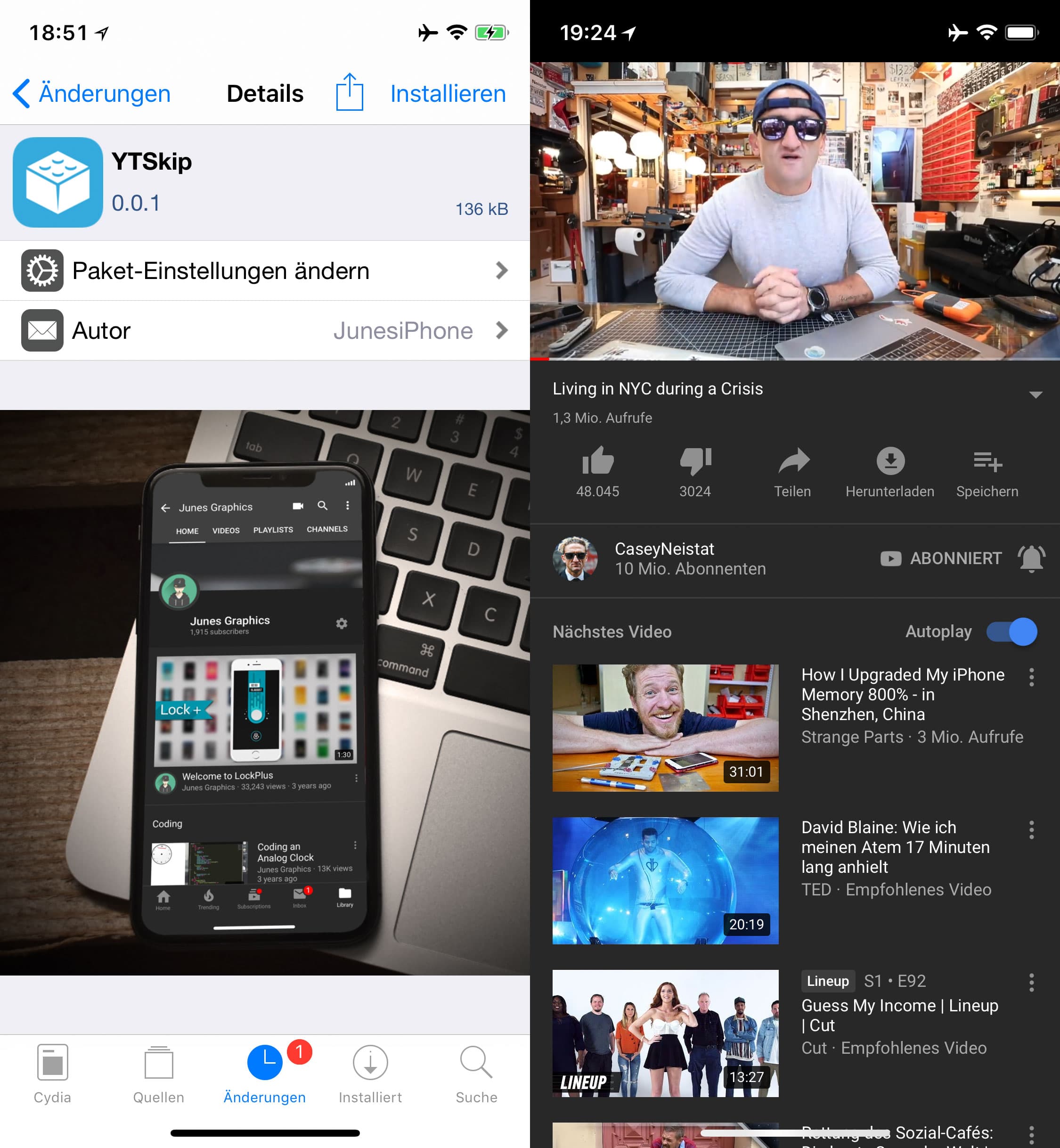 The simple Tweak YTSkip allows you to get rid of the annoying YouTube Ads. It also enables playback while the app is in the background. This is really helpful if you are listening a lot of music on YouTube and still want to use your iPhone the normal way (or you could pay for YouTube Premium if you are into that).
Note: To install the theme from the repo you need an account. This costs 10$/year and can be created here. With an account for the SuperSecret Repo you also get access to many other exclusive tweaks and themes that you will not find in Cydia.
Repo: http://junesiphone.com/supersecret/ (Link opens Cydia on your iPhone)
Price: Look at the note
DarkSounds – Dark mode for the music app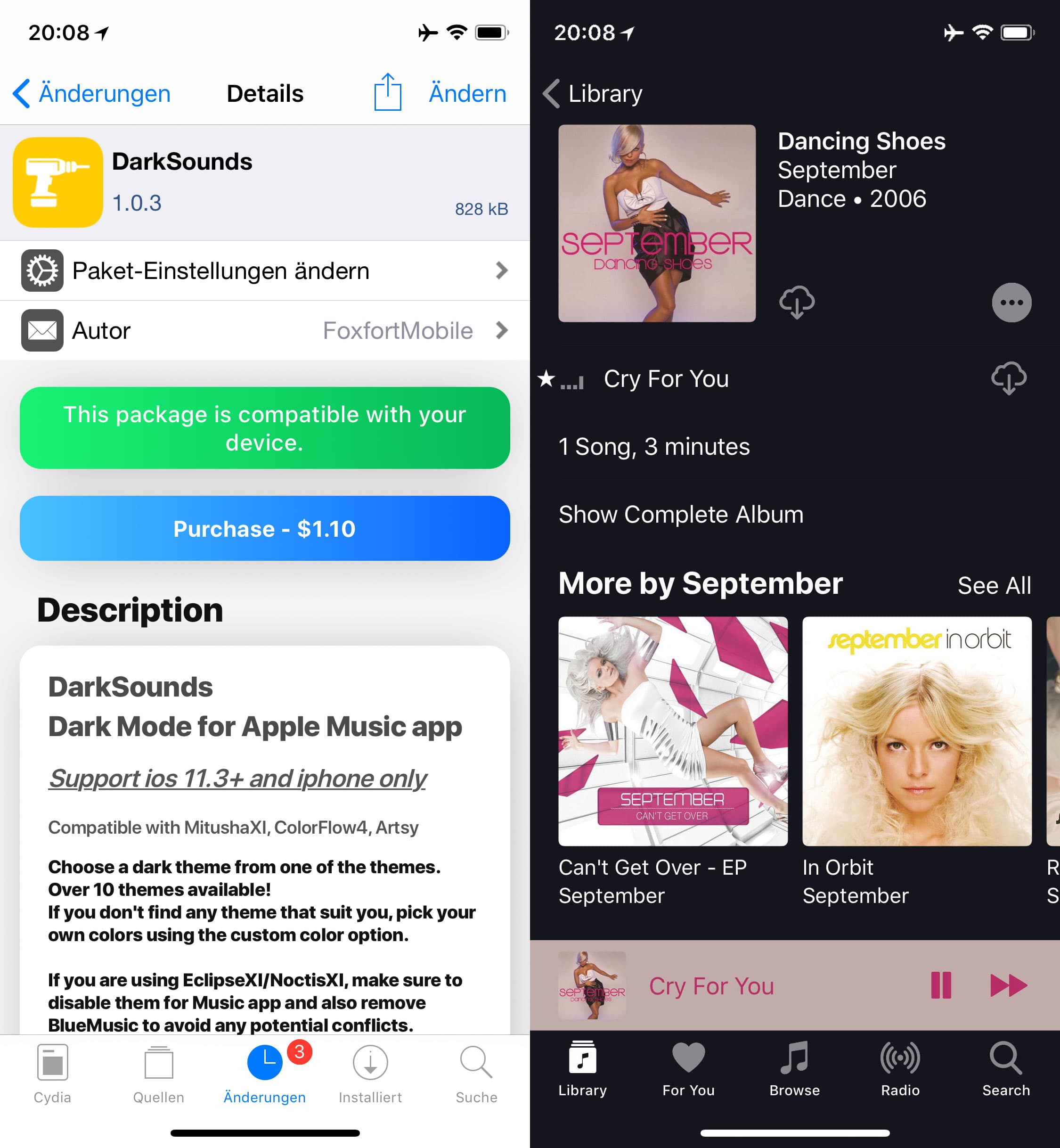 With the tweak DarkSounds you can enable a dark mode for the music app from Apple. The tweak comes with a few pre designes themes taht you can choose from. If you don't like one of the themes you can create your own. The tweak is also compatible with ExpliseXI/NoctisXI but you have to disable the music app from the tweak settings in order to get DarkSounds to work.
Repo: https://repo.packix.com/ (Link opens Cydia on your iPhone)
Price: $1.10
CleanSpotFooters – Get rid of the Edit button on the widget page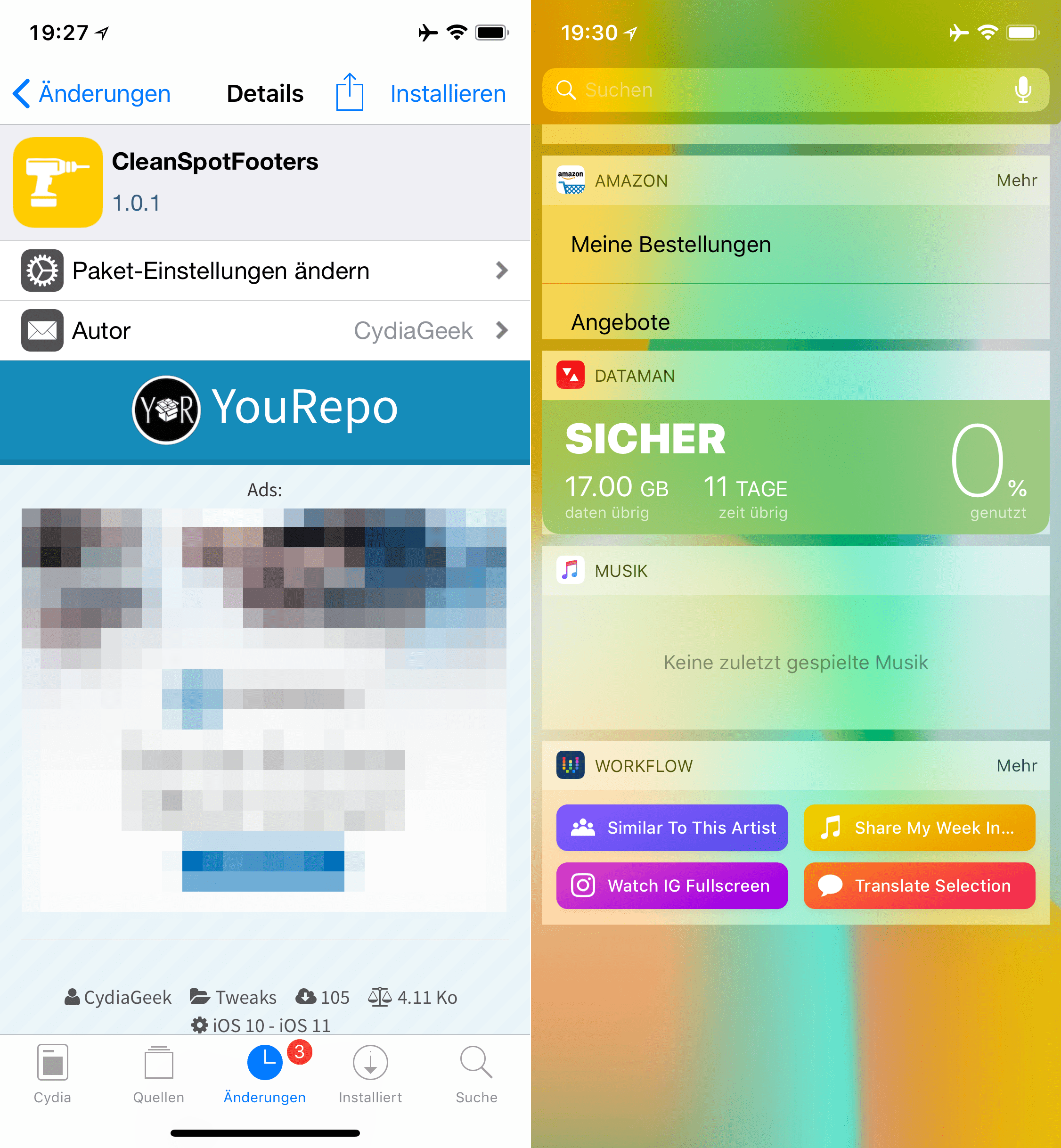 When you scroll to the bottom of the widget page in iOS you have this big round Edit button which is always present. After the installation of the free tweak CleanSpotFooters you will notice that this button is gone and the widget page looks way more cleaner than ever before. The awesome thing with this tweak is that it does not remove the button it only gets invisible. If you tap on the location where the button was previously you can still edit your widgets and add new ones to the page.
Repo: https://cydiageek.yourepo.com/ (Link opens Cydia on your iPhone)
Price: free
bstat – Show battery and RAM usage in terminal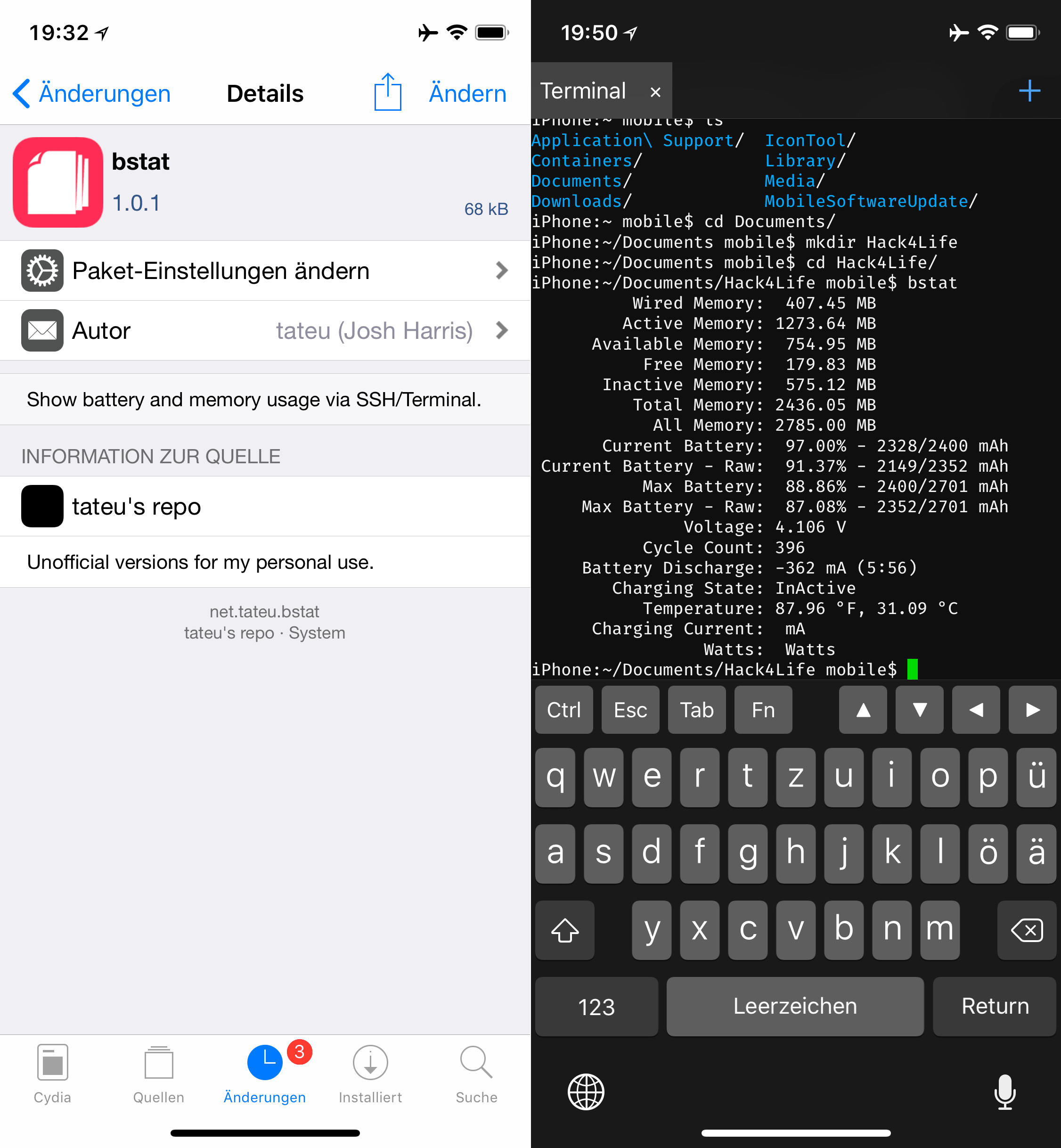 With the free tweak bstat you can get informations about the battery and the RAM usage directly from the terminal. You can access these informations directly on your device with a terminal application like NewTerm or with your favourite SSH client. Just type bstat and you get a list of informations about the current RAM usage or the battery cycle count. Look at the screenshot above to see all the informations you can get with this command.
Repo: http://www.tateu.net/repo/ (Link opens Cydia on your iPhone)
Price: free
Suggestions for next weeks issue of Top Cydia Tweaks?
If you have a tweak that would fit in this series, feel free to write a comment! ? If you want you can also follow us on Facebook oder Twitter.