We have waited for a long time but the wait is now finally over! @pwn20wnd   – which is the main developer of unc0ver – just released beta 29 of unc0ver v3.0.0 with full support for iOS 12. This version is not a half jailbreak or a developer only jailbreak. It also includes the iOS 12 version of Cydia and Cydia Substrate.
Before you start with the Jailbreak we want to mention that this version is a public beta. The current version does not support every iOS 12 device. Supported devices are with the A8X up to the A11 processor.
Devices with the A12 chip (iPhone XS, XS Max, XR) are currently not supported. Support for this devices will be added in the near feature – follow us on Twitter to get the lastest updates for this topic!
You can install the latest unc0ver Version if your device is on iOS 12.0-12.1.2.
Important things to note
Before you start with the Jailbreak there are some important things to note! There should be no OTA file of a new  the Settings under General -> iPhone-Storage. If there is a file like in the screenshot shown below, simply tap the entry and delete the update.
To prevent any system updates we recommend to install the tvOS 12 beta profile on your iPhone. This file cuts the connection between your iPhone and the Apple Update server.
Some Cydia Repositories may not work properly. The reason for this is a bug in iOS 12. HTTP Requests in iOS 12 only support TLS 1.0. In iOS 11 supports TLS 1.0-1.2 (have a look at this tweet from @sbingner)
This unc0ver version should not make any problems as long as you have deleted the OTA file on your device.
If you are currently on iOS 12.1.3 or newer you still have the chance to downgrade to iOS 12.1.1 beta 3 because this version is still being signed by Apple.
Tutorial for the iOS 12 Jailbreak with unc0ver v3.0.0 – Step-By-Step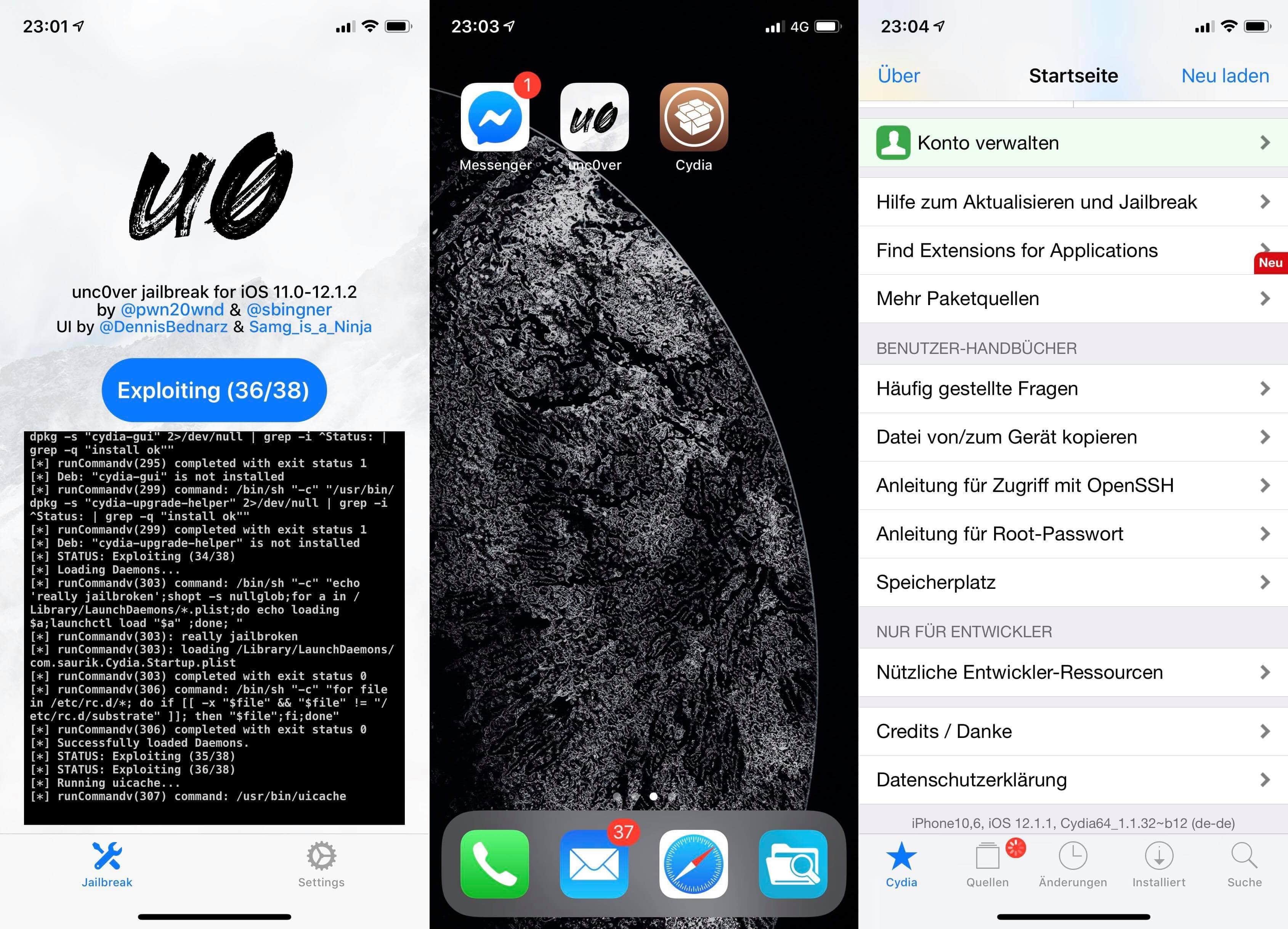 You need:
A Mac/PC
An internet connection
A Lightning-cable
Your AppleID
A few minutes
Download the latest IPA file from the official unc0ver site.
Install the latest version of Cydia Impactor on your Mac/PC. Cydia Impactor is tool from Jay Freeman (aka Saurik) and can be downloaded from here.
Start Cydia Impactor and connect your device with your Mac/PC. Drag and Drop the downloaded unc0ver IPA file into the Impactor window and enter your AppleID credentials.
Note: You AppleID is used to sign the unc0ver file so that you can install it on your device. Your credentials are safe because they get send directly to Apple to receive the certificate. If you have enabled Two-Factor Authentication you may have to setup a app-specific password under appleid.apple.com and use this one instead of your AppleID password.
After your file has been installed on our device you can unplug it from your Mac/PC. Open now the unc0ver App on your device and tap the Jailbreak button. After your device made a restring you see the Cydia Icon on your Homescreen. Congrats – your device is successfully jailbroken!
If it does not work on the first try reboot your device and try it again. This can take a few times until it works correctly.
If you have any questions or problems with the jailbreak feel free to leave a comment or reach out to us on twitter.